Hall St at Mason SQ
A new benchmark for inner city living
40 Hall St, Moonee Ponds VIC 3039
Hall St is the latest release in Mason Sq, a vibrant new neighbourhood in the heart of Moonee Ponds.
Surrounded by established retail, dining and entertainment, Hall St is just 6kms from Melbourne's CBD.
Every apartment features full size kitchens with European appliances, full height pantry, integrated dishwasher and soft closing draws. Residents will also enjoy stunning wide oak floorboards and luxurious carpet.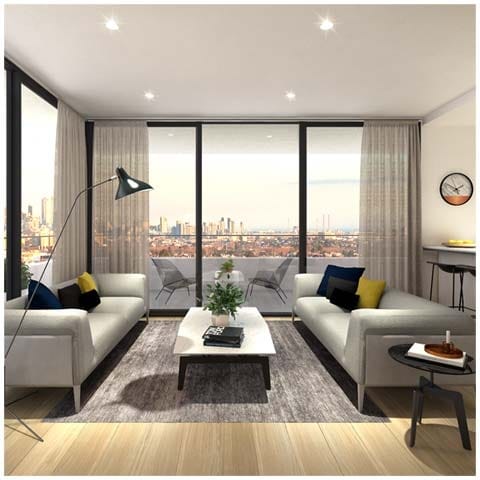 Superb Design. Exceptional views.
Designed by award winning Fender Katsalidis Architects, Hall St represents an outstanding investment and lifestyle opportunity just minutes from Melbourne.
A Commanding Position
Hall St comprises two sophisticated buildings in an imposing position affording remarkable views of Melbourne's skyline. Designed by acclaimed architectural practice, Fender Katsalidis, the design and materials of Hall St reference the site's artisan past and reflects the language of a contemporary warehouse conversion.
Elegance and Charm
The taller of the towers will be known for its elegant, streamlined design and polished copper elements that create an ever-changing façade as the sun crosses the sky. The smaller tower is defined by a patterned grid that evokes the charming shops of Puckle Street, with a warm colour palette in timber, steel and brick.
A New Urban Landmark
Hall St is a striking arrival in a landscape dominated by traditional 20th century homes. It reimagines the original character of the neighbourhood while delivering a new standard of contemporary living. Residents of Hall St are positioned to enjoy the best of modern life within a well-established community.
Mason Garden
Mason Garden offers the ultimate backyard – an exclusive, half-acre dream extension to apartment living.
This beautifully maintained garden provides pristine spaces for entertainment, exercise and quiet reflection with a stunning 25m pool, lush expanses of lawn, a multi-use sports court and a forest grove. Designed by the award winning landscape architects, Oculus, Mason Garden has been inspired by nearby Queens Park and offers something for every taste. With workout spaces for active residents, a turf mound for people to lie in the sun and even a small grove retreat to spend time lost among the trees.
A new benchmark for inner city living
As with every Caydon project, Hall St at Mason Sq offers visionary communal spaces. Here, meticulously crafted landscapes by Oculus set a new benchmark for inner-city living. It is an inspiring vision planned around a beautifully landscaped garden bordered by laneways, shops and the finest, contemporary apartments.
The Edible Garden
Space has been included for residents to enjoy freshly grown produce from Mason Garden. Big planter boxes filled with rich soil will help produce succulent tomatoes, herbs, greens and whatever other seasonal produce is possible.
The Tool Shed
In keeping with the landscaping theme of the big Australian backyard, all Hall St residents have access to the well-stocked Tool Shed.
This unique space has a range of tools to share and lockers for you to store your own. Located in the basement at Hall St, the Tool Shed features long timber benches, a TV, and a radio – everything you could need for designing, mending and crafting at home.
Only 6kms from Melbourne's CBD
Moonee Ponds is a charming urban village where you can find everything from fresh produce and artisan bakeries, to boutique fashion and designer wares.
Moonee Ponds is an attractive, established inner suburb, and Hall St is the ideal opportunity to become part of it.
Though it is fuelled by the energy of the city and offers exceptional connectivity, Moonee Ponds is known for its relaxed and friendly community spirit.
Demand to be a part of Moonee Ponds has pushed median house prices to over a million dollars.*
Hall St offers an affordable entry into this blue chip area.
Watch this Mason Sq location video to find out more.
*Source: Urbis Outlook September 2015
Parks
Hall St is close to many expansive park-lands and picturesque walking trails. With Queens park a two minute walk away, and the Moonee Ponds Creek bike trail only five minutes away, you are always at arms reach of an outdoor adventure.
Schools
Some of Melbourne's finest primary and secondary schools, such as Penleigh and Essendon Grammar School, St Columba's College and Lowther Hall are all within easy reach of Hall St.
Shopping
Moonee Ponds is a charming urban village where you can find everything from fresh produce and artisan bakeries to boutique fashion and designer wares.
After dusk, lights glow from the quaint storefronts of Puckle Street as the wine bars and restaurants open their doors. Night and day, the best of Moonee Ponds is here.
Recreation
Historic Queens Park is a popular destination for a picnic, a walk around the lake, a summertime swim in the local pool, or a friendly game of bocce. For more active recreation, the Maribyrnong River features rowing on the water alongside lengthy running and riding tracks.
Urban Village
Moonee Ponds is only a short drive or tram ride from Highpoint Shopping Centre. With more than 500 stores, international brands and homemaker outlets, it is one of the largest shopping centres in Australia.
Public Transport
Moonee Ponds is only 6km from Melbourne's CBD, with three public transport options all within walking distance of Mason Sq.